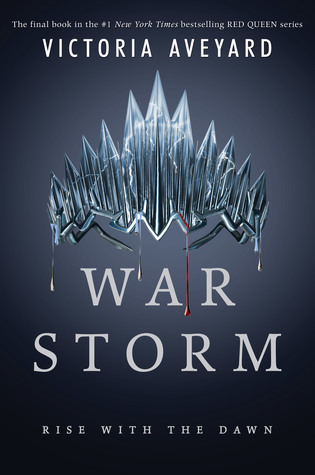 Title: War Storm (Red Queen #4)
Author: Victoria Aveyard
Rating: 2.5 stars
Spoilers ahead if you haven't read any of the previous book.
Summary from Goodreads
Victory comes at a price.
Mare Barrow learned this all too well when Cal's betrayal nearly destroyed her. Now determined to protect her heart—and secure freedom for Reds and newbloods like her—Mare resolves to overthrow the kingdom of Norta once and for all… starting with the crown on Maven's head.
But no battle is won alone, and before the Reds may rise as one, Mare must side with the boy who broke her heart in order to defeat the boy who almost broke her. Cal's powerful Silver allies, alongside Mare and the Scarlet Guard, prove a formidable force. But Maven is driven by an obsession so deep, he will stop at nothing to have Mare as his own again, even if it means demolishing everything—and everyone—in his path.
War is coming, and all Mare has fought for hangs in the balance. Will victory be enough to topple the Silver kingdoms? Or will the little lightning girl be forever silenced?
In the epic conclusion to Victoria Aveyard's stunning series, Mare must embrace her fate and summon all her power… for all will be tested, but not all will survive.
---
"He loved the crown before he loved me, whether he knows it or not"
The final installment of the Red Queen series, one that left me questioning each time I had to rate how high I would rate and what my thinking behind that rating was.
Seriously I adored the first book. Red Queen was a novel which served everything I needed and did it well! Glass Sword on the other hand was one of the biggest disappointments but still I saw some good in it. After those two came King's Cage. This book was a step up from the previous one but still had some flaws. I did see that Aveyard put a great amount of effort in it so I was grateful and interested in how the story would end. Now after four years this series finally comes to a conclusion. Let me tell you what I thought about it. Because my rating might not look very promising.
When I'm reading I write some short notes about how I'm feeling while reading the book. My major issue with War Storm was the story being dragged endlessly. This doesn't happen very much but I got bored when I was reading Mare's story and I wanted it be over. I kept hoping it would become better because I was already feeling this after hundred pages. Unfortunately it didn't get better. It neither got better nor worse. It stayed the same. And at that point when I saw no change I knew I was disconnected with every character. I couldn't connect with Mare, Evangeline, Cal, Maven. Even though I loved them in Red Queen and in Glass Sword and there was still a spark left in King's Cage and when I started War Storm, but the spark faded and never came back. I feel sad because I really wanted to love this book but I didn't.
There were some twists in War Storm. Most of them you see coming from miles away. There were two twists in the story one that I wanted to see happen and did and one that I less expected. I was pleased to see that!  The Red Queen series is a series that had very interesting plot twists in the first book and I think somehow along the way they got very predictable. I don't know how but I wish it wouldn't.
Near the end I was glad for the story to be over and the final conflict was enjoyable to read because that in contrast with the other five hundred pages was fast paced and more interesting. The conclusion is one that closes a story but leaves room for other stories to develop. The narrative probably won't build further on Mare's story but I have the feeling Aveyard  will return to this world with other characters and stories to tell.
"But there's always something left to be broken."